Implementation

Services

Eyecatch Productions are a registered provider with Activate Tāmaki Makaurau. Are you an Auckland business eligible for an Implementation Grant?

Let's Start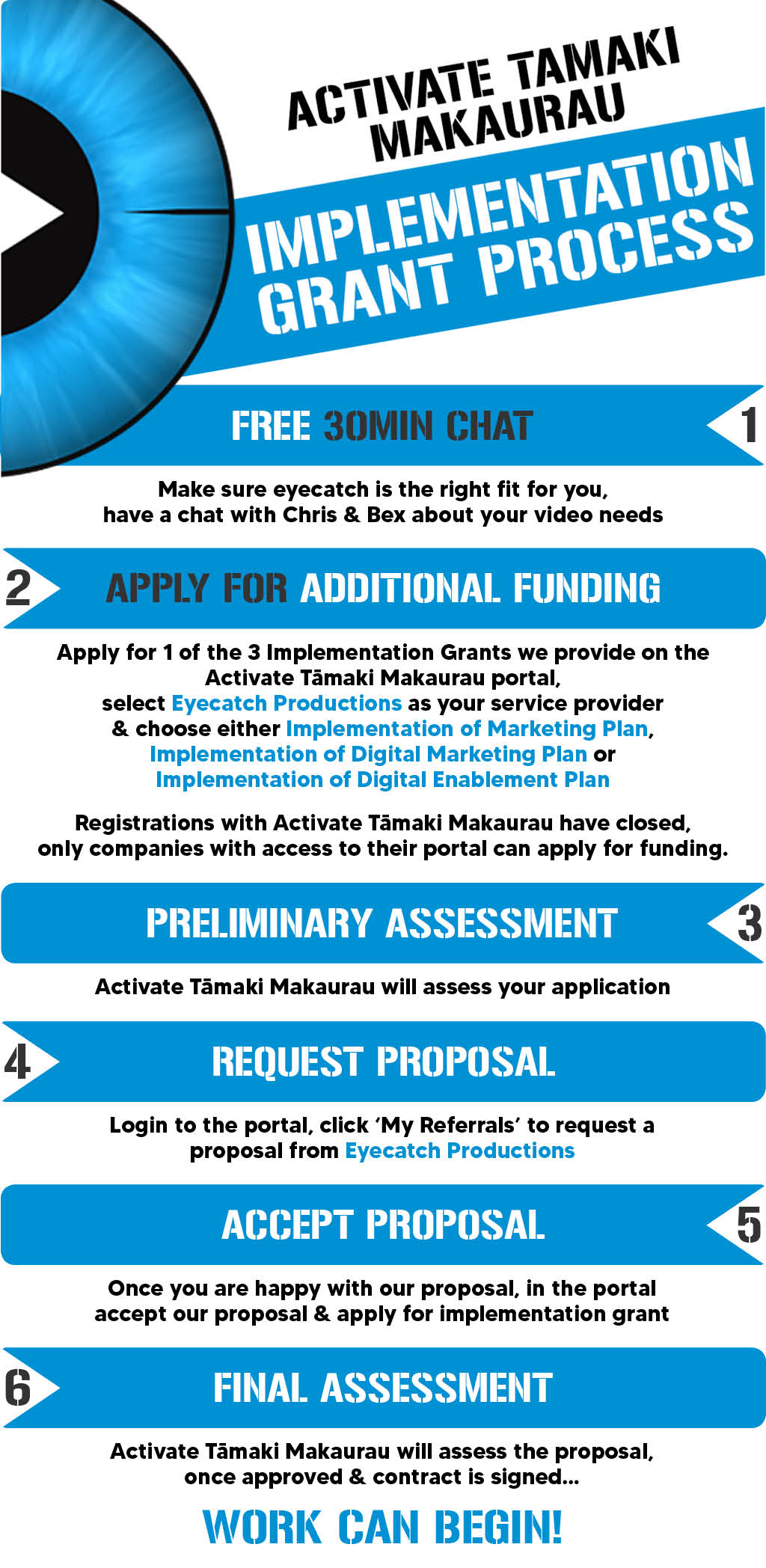 Activate Tāmaki Makaurau's Implementation Services
The Government announced a support package for Auckland businesses affected by alert level restrictions. This package helps Auckland businesses access: • advice and planning support • support to implement advice and planning • health and wellbeing support • business community resources
Eyecatch Productions are a registered provider with Activate Tāmaki Makaurau Implementation Services.
Only companies with access to Activate Tāmaki Makaurau portal can apply for funding as new registrations have closed.
For an Implementation Grant of up to $4K, your business will need a business plan in place, either through the Business Advice Grant or previously created, which includes the need for video marketing materials. Please note: The funding is nearing completion, available grants are limited and not guaranteed.
Eyecatch Productions specialises in creating eyecatching videos that engage the audience with a company brand, that won't break the bank! Don't have a brand? Not to worry, we excel at solidifying ideas into a look and feel right for you. Need some social media videos, website videos, customer testimonials, health & safety inductions, company location videos, product shots or anything in between; we've got you covered. For more infomation about us, check out the eTeam.
Book your free 30min chat
Activate Tāmaki Makaurau
Implementation Services
Fill in the form below... the more information you provide the better we can hit the bullseye, first time! You'll be redirected to a booking link to schedule your 30min chat once you hit the submit button.
Terms & Conditions*
Discuss your needs with a free 30min video chat, you will be under no obligation to proceed with Eyecatch's services.
Eyecatch reserves the right to contact you to discuss your needs before or after any quote.
All funding decisions are made by Activate Tāmaki Makaurau, we can not guarantee the amount or if you will be eligible for any funding.
If you are eligible for only a part of the $4K grant we will discuss if you would like to downsize the project to ensure you are under the grant budget or if you would prefer we will invoice you for the reminder of the project. Any payments must be made on or before the due date. Unless you have an account, this will be seven days after the delivery of any project. If payment is not received by the due date, unpaid accounts will be subject to debt collection at Eyecatch Ltd's discretion.
By submitting this form you are agreeing to the above T&Cs for any missions undertaken with Eyecatch.